Adding new members to existing events
An event is normally a performance for your music group but can include rehearsals and get-togethers too.
You must be an administrator to update an event.
You can add a new member to existing events in two ways:
On the Add Member screen.
By updating the event.
On the Add Member screen
When adding a new member, you can invite them to any upcoming events on the add member screen.

Clicking on the dropdown list, allows you to pick which events to include.
By updating the event
To do this, click on the event to view the event details.
Scroll down to the end of the screen and click the Invite more to this event button. In the popup screen, select the new people, add a note if you'd like to and hit submit.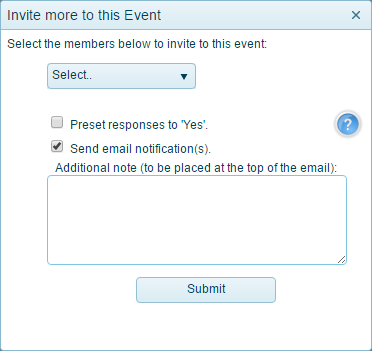 ---